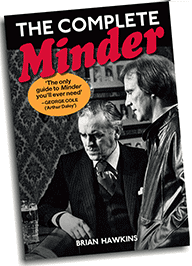 Pages 13-18
A phenomenon in the making
Prelude to a phenomenon
Autumn 1979 was not a glorious time in Great Britain. Unemployment and inflation were reaching record levels. Public morale was low. The new Conservative government under Prime Minister Mrs Margaret Thatcher had recently unveiled a highly unpopular budget. The country was still reeling from the effects of months of industrial strikes that had brought down the Labour government and led to the 'Winter of Discontent'. One such industrial dispute at London's Thames Television came to an end on 24 October after blacking out the entire Independent Television network for close to 11 weeks.
Against this dismal background, Thames Television introduced its new action series for the autumn season on Monday 29 October — a programme with the intriguing title Minder. The show was already weeks overdue, the new season's line-up traditionally being unveiled in early to mid-September.
At that time, nobody could possibly have imagined the eventual success that Minder would enjoy. Today, probably due in large part to the series, the term 'minder' is widely understood to mean a bodyguard or assistant. In 1979, this usage was much less familiar, and the idea that it could form the basis of a television series extending over 100 episodes would have seemed highly improbable. But by the time the final series ended in 1994 the show could account for ten series, 105 52-minute episodes, aChristmas compilation of excerpts, two feature films and two different actors playing the minder. The programme became amajor hit not only on British television but was also sold to over 70 countries around the world, making it one of Britain's top TV exports. In 1985, at the peak of its success, nearly 18 million people a week in Britain were watching the show.

But in Autumn 1979, Minder was unashamedly intended as a follow-up series for its leading actor, Dennis Waterman, to capitalise on his popularity in an earlier Thames Television series The Sweeney, that had recently come to an end.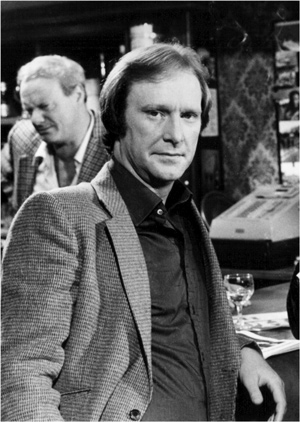 Dennis Waterman
Dennis Waterman was no newcomer to acting and came with excellent credentials. The last of nine children, he was born in Clapham, London on 24 February 1948 and joined the Corona Stage School in Chiswick when he was eleven. He made his screen debut in January 1960 just before his 12th birthday in the feature film Night Train for Inverness about a jail escapee who kidnaps his son (Waterman) and takes him on a train to Scotland unaware that the child has diabetes and requires regular medication. The following year he appeared in the West End musical show The Music Man. In 1962 he was cast in the title role of the children's BBC television series William based on the stories of Richmal Crompton. He went to Hollywood for a year whenhe was fifteen to appear in the American sitcom Fair Exchange, which was never shown in Britain. On his return to London he had a number of television roles including the iconic Up the Junction in 1968 directed by Peter Collinson about the social divide between the rich and poor. But his big break came when he landed a part in Thames Television's police drama The Sweeney.

The Sweeney, in which he co-starred with the late John Thaw, was a no-holds-barred action series based in London about two officers in Scotland Yard's Flying Squad (known as the 'Sweeney Todd' in rhyming slang). Dennis Waterman played the part of Detective Sergeant George Carter while John Thaw played Carter's guv'nor, Detective Inspector Jack Regan. In its quest to achieve gritty realism, the programme's action sequences, tough dialogue, car chases and violence — on both sides of the law — set a new standard in British police shows. There were regular complaints from the police about its portrayal of police brutality but the public could not get enough of the programme or its two stars.

When The Sweeney finished its run in 1978, its production company began to look for another role for Dennis Waterman. The company, Euston Films, headed by George Taylor and Lloyd Shirley, had been set up six years earlier as a subsidiary of Thames Television to specialise in the production of television drama on film. Before making The Sweeney, Euston's major output had been the 1973 series Special Branch starring George Sewell and Patrick Mower, and a six-part series under the general title Armchair Cinema. One of the episodes, Regan, written by Ian Kennedy Martin and directed by Tom Clegg, was the pilot of The Sweeney.

The successor to The Sweeney came in the form of a film script called Minder penned two years earlier by veteran television writer Leon Griffiths about an East End crime boss and his bodyguard.

As Terry McCann in Minder, Waterman played a young man with two prison terms under his belt, one for grievous bodily harm and the other for attempted robbery. At least one of these was for a crime that his boss was involved in but escaped prosecution. At one time McCann had had a promising career ahead of him as a professional boxer but lost his licence after a rigged bout in which he took a fall that was too obvious. According to his boss, Arthur Daley, he should have been nicked for overacting.

The character he took on in Minder, as the tough, streetwise but put-upon and naïve underdog, had many similarities to his role as Sergeant Carter in The Sweeney, the sidekick of the powerful Inspector Regan.
Leon Griffiths
Born in Sheffield in 1928, Leon Griffiths (named after Leon Trotsky by his staunchly communist mother) had a tough upbringing in Glasgow where he developed a hankering to be a writer. After leaving school he obtained a job as an assistant director in a small film company. He left the company to perform his National Service and found himself working with the British Forces Network in Germany alongside fledgling broadcaster Cliff Michelmore. By the time he had completed his National Service the film company he worked for previously had gone bankrupt. To pay the bills he took up a writing post with the communist Daily Worker newspaper in the 1950s and eventually became its drama critic. He relinquished this position, and indeed his communist ties, following the invasion of Budapest by Russian tanks in 1956 and struggled to make a career on Fleet Street.

Griffiths got into television script-writing almost by accident following a chance offer to write some episodes of the independently produced The Adventures of Robin Hood series from 1955—59 starring Richard Greene. Griffiths was not the only one outside of the political mainstream to work on the Robin Hood series. Executive producer Hannah Weinstein also used the talents of several blacklisted American writers (usually working under pseudonyms) who had taken refuge from Senator Joseph McCarthy's notorious communist witch-hunt back home.

In script-writing, Griffiths found a vocation and branched out into writing television plays and film scripts, often in the crime thriller genre and incorporating the undercurrent of dark humour, incisive wit and cleverly crafted dialogue that became his forte.

He wrote prolifically for television, ranging from three episodes of the 1959—60 ITV series The Four Just Men, based on the stories by Edgar Wallace, to Yorkshire Television's 1979—80 series The Racing Game. He was at home in the sleazy aspects of his plots, from horse-race fixing in The Racing Game to his 1978 BBC-1 Play for Today episode Dinner at the Sporting Club involving rigged boxing contests — a topic he would revisit a few years later in a Minder episode.

Coincidentally, in the 1978 story, it was John Thaw from The Sweeney who gave an exceptional performance as the boxing manager who suffers the indignity of seeing his prize boxer forced to lose a fight for financial gain.

Among Griffiths' notable film credits was The Grissom Gang in 1971 set in America during the 1920s Depression, based on the 1948 book No Orchids for Miss Blandish by James Hadley Chase in which a kidnapped socialite falls in love with one of her abductors. In The Grissom Gang he took an essentially violent plot and interspersed a sprinkling of humour — an approach that he also adopted later with the early episodes of Minder.

In an interview with TV Times in 1991, Leon Griffiths described how he used to go to afternoon drinking clubs in North London and meet people who gave him ideas for his characters, including that of Arthur Daley in Minder: 'I've always been fascinated by low life, the semi-villains of this world. I like observing them, wondering how they make out.' He went on: 'They lived on their wits and were great storytellers. I don't suppose half of what they said was true but it didn't matter. They were alive; they crackled with a sort of crazy energy.'1

Griffiths' original conception of Minder was as a tough, hard-hitting gangland film which he had kept on hold for a couple of years on the advice of his agent who felt that it was a little too serious to sell at that particular time. The same agent later suggested that Griffiths rework the film into a television script using two of the characters from the film: a small-time crook with a second-hand car business and his streetwise bodyguard (or 'minder', as the term was in London), an ex-boxer with a prison record.

Around that time, Euston Films had recently taken on script executive Linda Agran to develop its access to quality scripts. As soon as she saw Griffith's revised script she recognised that the part of the minder would be ideal for Dennis Waterman. When Waterman saw the initial scripts and story lines he was particularly taken by the underlying humour and needed no second thoughts about accepting the part.

The task then fell to producers George Taylor and Lloyd Shirley at Euston Films to cast the supporting role of Arthur Daley, the smooth-talking used-car salesman, always on the lookout for a quick quid. The script called for someone 'the same age as some good-looking American film star [Arthur Daley often announced proudly that he was the same age as Paul Newman]. He's totally behind the Home Secretary as far as law and order is concerned. His favourite film is The Godfather and he dresses like a dodgy member of the Citizens' Advice Bureau.'

The task was not an easy one. What they were looking for was someone who could convey an image of being continually 'on the make'. Dennis Waterman had previously worked with the well-respected actor Denholm Elliot and was convinced that he would be an ideal choice, but Euston's production team felt he was a little too smooth. A number of other artists were considered including television and film veteran George Cole but he was initially thought to be too 'middle-class' and there were heated arguments about who should be cast in the role. Eventually executive producer Verity Lambert reminded the other decision makers that George Cole had already made a name for himself playing a spiv and should be well-suited to play this one. That apparently swayed them and he was offered the part.
George Cole
George Cole was no stranger to the Arthur Daley character he took on in Minder. In a career spanning over 40 years, he had already become well-known as the smooth-talking spiv Flash Harry in the highly popular St. Trinian's comedy films in the 1950s and '60s about a dysfunctional girls' boarding school. Born in London on 22 April 1925, Cole made his stage debut at the age of 14 in the 1939 revival of the musical show The White Horse Inn. The following year he was cast as a young wartime evacuee in the movie Cottage to Let starring the legendary comedy actor Alastair Sim.
Pages 64-65
The second and third parts were made in collaboration with the Australian Broadcasting Corporation on location in Sydney and the outback town of Broken Hill in New South Wales. They dealt with Arthur and Ray's attempts to claim the inheritance and their troubles along the way. Fussy viewers were no doubt able to see through the holes, ('How could someone get on a plane from England to Australia as a tourist without a return ticket?'). The locations were spectacular and provided an interesting diversion for British viewers. Unfortunately, the three episodes were written by three different people and, although entertaining, the single story that came out of them lacked much of the crispness that the audience had come to expect from Minder.
Minder in Australia
By the time the Australian episodes were made, Minder was extremely well known in Australia, where it had become the show's biggest market outside the UK.

Minder first appeared on Australian television at 8:30 pm on 27 May 1980 when Gunfight at the O.K. Laundrettemade its debut on the national network operated by the Australian Broadcasting Corporation (ABC), seven months after the episode first aired in Britain. Like most of the episodes that followed, it was given a PGR rating — Parental Guidance Recommended. Notable exceptions were episodes featuring excessive violence, such as The Old School Tie, You Need Hands, Looking for Micky, and sexual themes, such as Monday Night Fever, which received AO ratings — Adults Only.

ABC owned the rights to first and second transmission in Australia. New episodes were always shown first on ABC, usually with a repeat one to two years later. The exceptions to this were the two feature films, Minder on the Orient Express and An Officer and a Car Salesman, which were bought by the Seven Network under a separate distribution agreement and had their first runs on Channel Seven.

The show seemed to take off faster with the audience in Australia than it did in Britain. In a year-end poll of Australian television critics' favouriteprogrammes of 1982 conducted by the Sydney Morning Herald, critic Denis O'Brien listed Minder as his most addictive hour on television and nominated as his favourite the Series 3 episode Another Bride, Another Groom in which Terryhas to collect pornographic magazines on the way to a wedding.29 Also in 1982, and then again in 1983, the show's theme song I Could Be So Good For You sung by Dennis Waterman reached the top ten of both the Australian and New Zealand pop record charts.

Another informal survey, this one among readers of the Sun-Herald in Sydney, reported that 'the most written-about show — and always favourably — was Minder' despite the fact that the current series at the time of the survey was a repeat of Series 2.30

With a few exceptions the episodes were shown in Australia in the same order as in Britain. The Christmas Bonus episode featuring clips from the first three series was saved until Christmas Eve 1985 by which time the first five series had been shown and the first four had already been repeated.

Series 6 opened on the ABC on 11 March 1986 in a Tuesday night time-slot with The Return of the Invincible Man, which was the fourth episode of the series in UK. Channel Seven managed to catch some of the action with a first showing of Minder on the Orient Express the following Monday, the night before ABC showed its next episode of Series 6. Following the last episode of Series 6 in April 1986 there were no new episodes transmitted in Australia until 1989.

Dennis Waterman, meanwhile, maintained his visibility in Australia and later New Zealand co-starring with RulaLenska in Bernard Slade's play Same Time Next Year, which had a two-month run in Perth during the southern-hemisphere spring of 1984. The couple were back in Perth two years later, towards the end of 1986, working in Tom Stoppard's play The Real Thing and getting married in the Perth suburb of Shenton Park on 3 January 1987.

By the time Series 7 became available for transmission in late 1988, Channel Seven had bought the repeat rights to the first seven series with effect from April 1989, meaning that all repeats after that date would be shown on that network. This left ABC with the contractual obligation to show six outstanding repeats of Series 6 plus the six new episodes of Series 7 before April 1989. They managed to fit in the repeats in January 1989 and all six episodes of Series 7 by showing episodes two at a time on three nights between 31 January and 21 February. Then, as was the case in UK, there was a three-year break before Australia saw a new episode of Minder.
Pages 80-81
The formal announcement from Channel 5 was made on 31 July 2008 when it was revealed that the new series would star former EastEndersactor Shane Richie playing Arthur Daley's nephew Archie Daley, with Royal Shakespeare Company actor Lex Shrapnel taking on the role of Archie's minder Jamie Cartwright.42 Channel 5 reported that the six-part series would be an updated version of the original series that would retain 'all the humour and charm of the original Minder'.43 The series would be produced by Talkback Thames.

In the weeks preceding the launch of the new show Channel 5 began a massive national advertising campaign involving billboards, taxi panels, and phone box wraps, all featuring the two stars. Wider marketing included ads on taxi receipts, a social networking campaign, and branded beer mats.44

The first episode, written by Tim Loane, was broadcast on 4 February 2009. The signature tune was the same as in the earlier series, but in an upbeat style recorded by Glaswegian band Attic Lights without the vocal. For a show that was not intended as a remake, the opening credits showed a remarkable resemblance to the original, alternating between action shots and monochrome stills. Even the locations and postures of the two principal characters were very similar.

The episode begins with Archie Daley being pursued in a car containing two heavies working for a pair of crooked property developers. Taxi driver Jamie Cartwright cuts off the pursuers and saves Archie from an inevitable beating — and eventually becomes Archie's minder.

Similarities to the original abound. There is a lock-up, crammed with goods of suspicious origins — and a Winchester Club. Initially it is called the Victoria, but following an arson attack by property developers who want to buy up the land it is transformed into the Winchester, the proprietor of which is the daughter of Dave Harris, who ran the Winchester Club in the original series.

Archie Daley shares Arthur's propensity to use malapropisms: 'This is no time for levitation' (instead of 'levity') and 'I want to make amendments' (instead of 'amends') among many. There is no ''erindoors' this time round. Archie is going through a messy separation and refers to 'she who must be paid' (which harks back to 'she who must be obeyed' in Thames Television'sRumpole of the Bailey series that was shown around the same time as the original Minder).

The critics were generally not kind to the first episode. Sam Wollaston in the Guardian was particularly critical of the need to make a new series at all. He wrote: 'The original Minder was of its time: it captured and encapsulated the spirit of Thatcher's 1990s. This one attempts to transplant that spirit into today, where it doesn't belong.'45