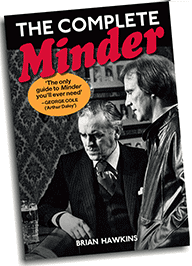 ---
Episode 8
Season 1/8 -- First transmission: 17 December 1979
Come in T-64, Your Time is Ticking Away
by Tony Hoare



Cast
Terry -- Dennis Waterman
Arthur -- George Cole
Minicab driver -- Michael Hughes
Woman in flat -- Vicki Woolf
Paddy -- Eric Mason
Kevin -- Alfred Burke
Des -- George Layton
Barry -- Michael Bruce
Billy -- Darryl Read

Greg -- Charlie Hawkins
Katie -- Daphne Anderson
John -- Morgan Sheppard
Dave -- Oscar James
Debbie -- Diana Malin

Producers -- Lloyd Shirley, George Taylor
Director -- Francis Megahy
Executive Producer -- Verity Lambert
When the minicab firm of which Arthur is a co-partner experiences assaults on its drivers and vandalism of its cars, Kevin, the other partner, is reluctant to call in the police because he wants to avoid attracting the interest of the tax authorities. Instead, Arthur recruits Terry as a driver to locate the source of the trouble from the inside. Kevin, in the meantime, becomes interested in buying out Arthur's share of the business. Terry manages to track down the troublemakers, and discovers who is behind the attacks and why Kevin wants to buy Arthur out.
This is the first of five appearances in the programme of Diana Malin as Terry's girlfriend Debbie, a stripper at a local club.
Subplots: Terry acts as a sparring partner at the gym. He buys an old banger from Des to use as his minicab and makes a profit when the car is resold. Arthur is left minding the telephones and has trouble coping.